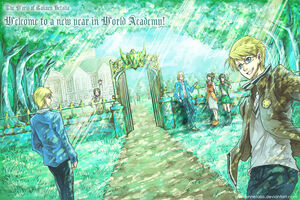 Welcome, Welcome, Welcome
Based off of the popular Hetalia spin-off, Gakuen Hetalia, our group has now ascended into a role-playing academy, consisting of members' original characters enrolling in a multicultural high school, World Academy. Our ultimate goal is to create awareness, through the Hetalia fandom, of everything that is happening around the world, may it be political, economical, or social issues. Above all, World Academy is for students to learn, to make friends, and to have lots of fun. Have a great school year! -World Academy staff
35
articles
Forever Featured article
The most beloved pairing in Gakuen Hetalia, you can't throw a stick in the chatroom without landing on a fangirl. The fanbase exists underground and membership is often publicly denied but if gather some fangirls together alone........
This is past description, the extent of the awesomeness of this accidental brainchild leaves many frothing at the mouths and their creators shaking their heads in exasperation. To discover more, please click the above link, out of exhilaration or out of trepidation, it depends whether you're chlang or dreaming //shot <3
---
To write a new article, just enter the article title in the box below.
---
---
Activity Feed
Community content is available under
CC-BY-SA
unless otherwise noted.